Encouraging the Next Generation of Cultural Storytellers
Beginning in 2014, and in keeping with our mission to preserve Detroit's musical heritage, Detroit Sound Conservancy announced a memorial scholarship for one of Detroit's most important music journalists: Dan Sicko. After a period of outreach, organizing, and fundraising, DSC partnered with the late writer's family and Wayne State University's Department of Communication, to honor his legacy and encourage the next generation of prospective Detroit cultural storytellers for three years beginning in 2017 and ending in 2019.
Our initial partner in fundraising for this scholarship was record label Ghostly International who printed the initial "Detroit Renegade of Electronic Funk" t-shirt honoring Sicko. Proceeds from online sales went to DSC for the scholarship. During that period, Ghostly founder Sam Valenti IV said, "The Ghostly team is proud to be a part of remembering our friend Dan and championing his work and life. The DSC carries a goal close to our hearts, to make things better." In 2016, DSC took over production and marketing of the Renegade shirt.
You can purchase them here.
If you have any questions or would like to get involved please contact us at info@detroitsound.org or call direct at 313-757-5082
2019
Brianna Jones is a first year M.A. student, concentrating in Media Arts and Studies. In both her undergraduate work and her current graduate work, she has demonstrated both excellence and passion in sound production and a commitment to mentoring and training students.
Medina Baydoun is a junior film major who through her academic pursuits has demonstrated both a keen interest and passion in music performance and writing. Check out her Instagram handle here.
2018

Professor Juanita Anderson, Gus Navarro, and Don Sicko April 24, 2018
Gus Navarro (pictured above) is an M.A. Candidate who is currently conducting pre-production research and planning for his Masters Thesis project, a documentary about Tribe Records in Detroit. His project will examine the revolutionary music label, the jazz they produced and their legacy today. It promises to make a significant contribution to the understanding Detroit's music history.
2017
Michael Valenti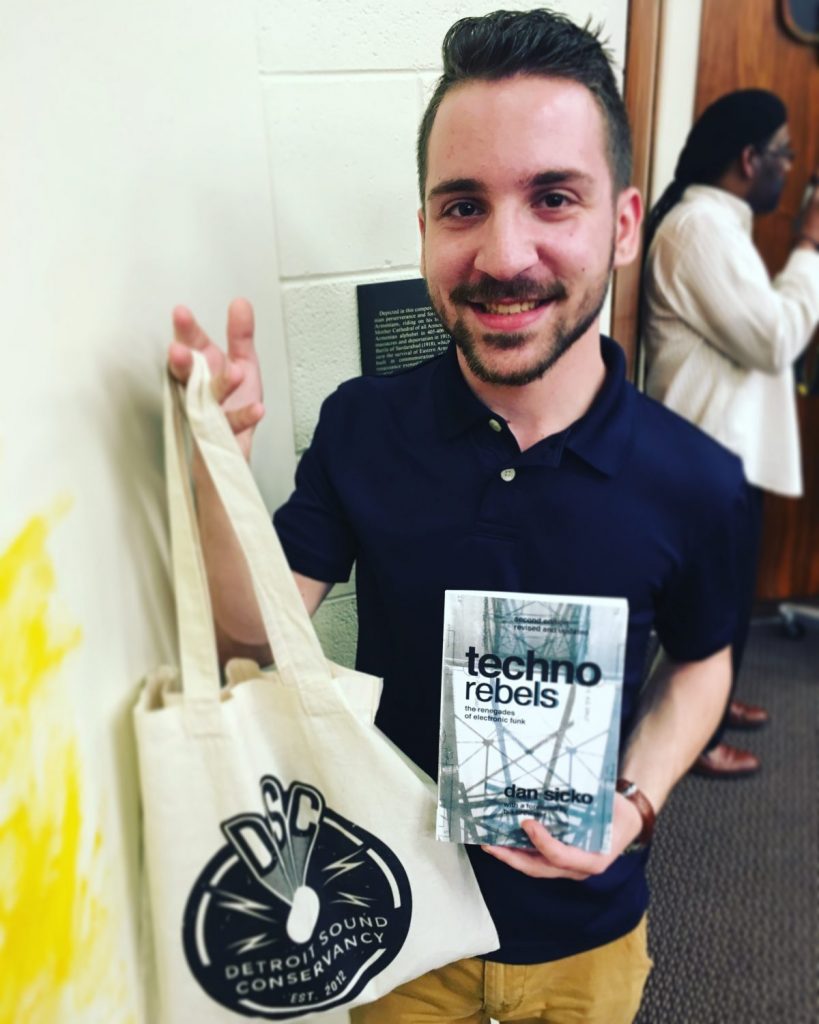 Updated 31 March 2020