Club Heaven, a legendary and primarily Black LGBT afterhours club in Detroit, gave life. We preserve and celebrate its legacy with our community partners.
RESTORING A DETROIT LEGEND
Updated 2 June 2020
It turns out we're living in an era that is paying ever closer attention to the hidden histories of sound and dance scenes. The exploration of these histories is providing us with a sense of what the future might hold. It's thrilling to be able to believe that Detroit's Club Heaven is entering the frame. The potential understandings, engagements and adventures that can come out of the restoration of its sound system are huge.
— Tim Lawrence, author, Love Saves the Day
The sound created a place of liberation.
— Damon "Magic" Percy, The House of Charles
For just over a decade beginning in 1984, a generation of DJs, performers, dancers, engineers, club promoters, and especially Black LGBT youth came together to create a kingdom for expression and imagination at Club Heaven in Detroit. Like too many queer spaces, the building that sheltered this after-hours oasis at 7 Mile and Woodward has disappeared. In fact, Metro-Detroit lost 75% of its gay bars since Heaven's doors opened, but Club Heaven's Sound System and cultural movement remain relevant and active.
After a successful Kickstarter campaign in 2018, we are currently conducting electronic archaeology and restoring an assembly of amplifiers, cables, drivers, horns, and speaker cabinets that helped produce the emergence of house and techno music, as well as global recognition of vogue dancing and ballroom culture.
In the tradition of Chicago's Warehouse and New York's Paradise Garage, Club Heaven gave life. Now with our community partners we are helping to give life back to the Club Heaven Sound System.
Please use the hashtags #thesearchforheaven
To get involved, sponsor ongoing restoration, or propose a Phase 1 or Phase 2 curation, please contact our director via email at info@detroitsound.org or call direct at 313-757-5082
2020 UPDATE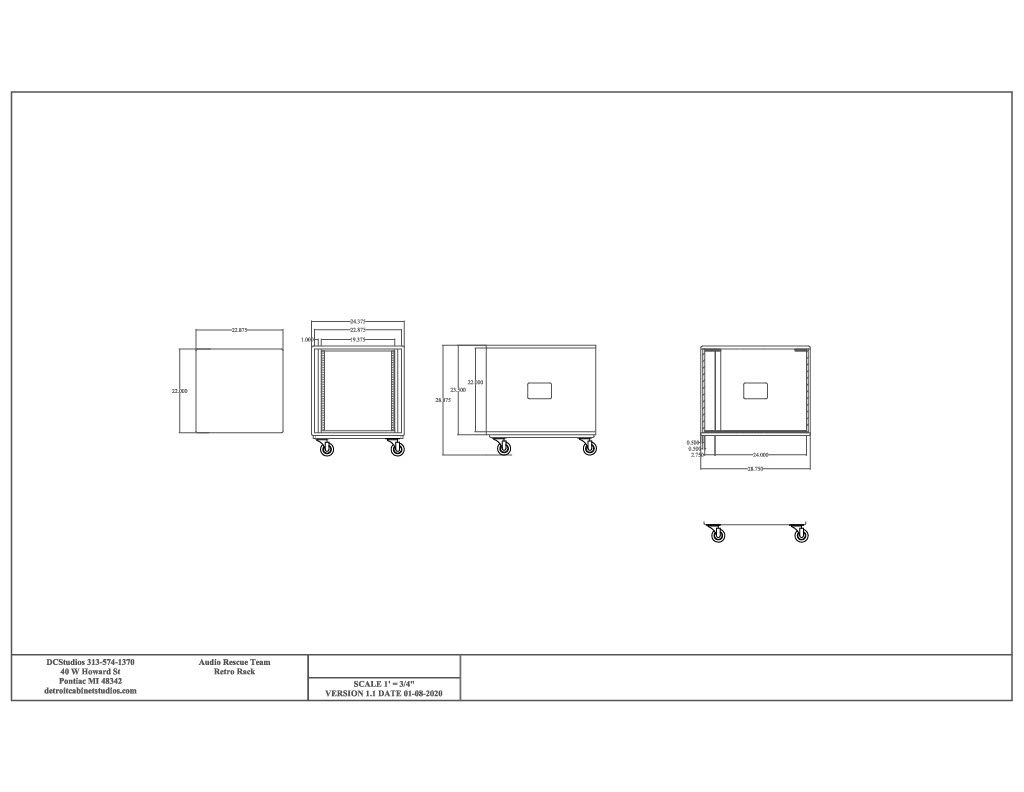 #ElectronicArchaeology process has begun (and it's no joke). Activation coming in 2020. "Retro Amplifier Rack CAD Drawings" via Audio Rescue Team.
2019 UPDATE
Salvaging Sound, featuring pieces from the Club Heaven Sound System, is up now through April 7th at the Detroit Historical Society. Learn more here.
OUR JOURNEY WITH THE CLUB HEAVEN SOUND SYSTEM
Since our founding in 2012, we have preserved and celebrated Detroit music history from below. This means we spend our time telling stories that have rarely been heard outside of our own neighborhoods and local communities and have yet to be included in standard depictions of Detroit's musical history. This includes stories of Detroit's queer dance ecosystem from the late 1960s to the present day in which Club Heaven is a key moment. Fast forwarding to last year, techno producer and DJ legends Derrick May and Kevin Saunderson gifted the Club Heaven Sound System to us for reactivation. It had been sitting in a basement in Detroit for approximately twenty years. We salvaged the system and in October 2017 held a panel discussion about plans at our 4th annual conference.
Late in 2017, we hired a vendor to survey damage to the system, which suffered significant wear and tear from being moved multiple times as well as water damage and mold from basement flooding. Since then, we have activated a team to oversee the restoration of the Sound System and, last spring, curated a booth to raise awareness for our efforts at Movement Music Festival 2018.
Restoration Process and Timeline
PHASE 1: ELECTRONIC ARCHAEOLOGY + ACTIVATION
The money gathered through our Kickstarter is being used for a Phase 1 plan for the Club Heaven Sound System, rebuilding the speakers and purchasing/repairing vintage audio equipment so the System can be activated in 2019 for a Detroit debut event.
PHASE 2 ACTIVATION: TAKE IT ON THE ROAD!
After our Phase 1 activation, our Phase 2 rebuild would provide enough money to mobilize the Sound System with its own dedicated turntables, amplifiers, mixer, sound board, as well as projection and lighting capabilities.
WHY WILL THIS PROJECT HAVE IMPACT:
First, we want to celebrate a period in Detroit music history—the rise of house and techno music in Detroit's historic gay bars and clubs—that has been under-celebrated if not ignored in most narratives of this great musical city. We will celebrate through media storytelling and projection, curated panel discussions, as well as performances and exhibitions with the Sound System.
Second, we want to enlighten and educate Detroiters and the world about this scene and the DJs, performers, and audiences that made it come alive. Critically we also want to link this scene back to other parts of Detroit's historic musical ecosystem including other genres, and even amplifier and speaker manufacturers, sound system companies, engineers, and studios. In other words, we want to make sure people understand how intimately connected these different facets of Detroit's musical life were.
Third, public programming of the system will gather community and bridge generations, both locally and globally. For this Phase 1 Activation, we will gather young and old, current scene participants and legacy participants, from a diversity of identities to experience and learn from this unique, analog sound system.
Fourth, with our main community partner LGBT Detroit steering the wheel, we want to bring attention to the ongoing fight against HIV/AIDs. Though many who originally experienced the Club Heaven Sound System survived, many did not. The first reported AIDs case in Detroit came just as Club Heaven first opened its doors. The impact of this disease has been devastating and continues to affect our community. DSC and LGBT Detroit will work together to create opportunities with the Sound System to bring awareness to this ongoing struggle.
OUR KEY PARTNERS FOR THIS KICKSTARTER
Lead community partner. Their mission is is to increase awareness of the intricacies of LGBT culture through education and advocacy.
Lead restoration and technical partner. Led by Michael Fotias production manager for Movement Festival and Detroit Jazz Fest.
Christopher Cushman, photographer
Raised in Detroit, now living in Toronto, Cushman's black and white photos of the House of Charles at Club Heaven from 1995 for Kick! magazine are iconic portraits of a cultural movement and moment. These photos will be made available, for the first time ever, as small print editions or signed, framed prints, at various award levels for this Kickstarter.
OUR ALLIES AND PARTNERS SAY…
One day we'll wake to realize that the most important sonic instruments of the late twentieth century – those driven by electricity – are gone. We'll still have the music but the systems, their timbre, and the window they offer to important moments in history will be no more.
— Zackery Belanger, Arcgeometer, Detroit
Club Heaven was one of the birthing grounds for a lot of us DJs. We hold it in legendary status. That system changed our lives! I'm honored to be able to speak on a system I literally grew up with.
— Mike "Agent X" Clark, producer and DJ
I'm extremely excited to be backing the Club Heaven Sound System Kickstarter campaign! For those of us who have been touched by deejay and sound system culture, we have a special and unique opportunity to be intimately involved in preserving its young history. New York has lost the Paradise Garage system and Chicago has lost the Warehouse system (both designed by Richard Long), but we can save Detroit's Club Heaven rig.
— Peter Croce, deejay, producer, musician, label founder of Rocksteady Disco
The Club Heaven sound system is a system of parts—each technologically innovative in its own right—each pushed to the limits of its boundaries, coaxed into cooperation with one another. Thanks to DSC's work to preserve the tangible pieces of the Club Heaven story, by extension, those vital and intangible histories—of tolerance, of long-gone queer and black spaces in the city, the revelry of experiencing improvised, pioneering music—will also be documented through its restoration. We often don't miss what is under threat of being lost until we lose it. This system, along with its imprints of memory, place, and time, deserves to be heard once again.
— Kristen Gallerneaux, PhD, museum curator and sonic researcher.
To have a home base like that. It sounds like a cliché now, but it really was magic. Heaven was special.
— Alvin Hill, DJ, producer, and Club Heaven attendee
In an era when music history has been flattened by the Internet, this is true time traveling experience.
— Joshua Glazer, Rave Curious Podcast
Supporting the Club Heaven Sound System restoration Kickstarter is a significant way to impact the future creative community in Detroit through artifacts of the city's past. The DSC's recent restoration of the Blue Bird Inn Stage now shares a vital piece of jazz history in Detroit throughout the world. Now, to restore the very sound system used at Club Heaven is to share Detroit's contributions to House and Techno music.
— Peter Lusch, MFA Professor of Practice in Graphic Design, Lehigh University, Department of Art : Architecture : Design
I've been aware of Dr. Gholz's work for quite some time and I am proud to support the efforts of himself and his team at Detroit Sound Conservancy. His latest undertaking, restoring the full sound system of Detroit's legendary gay club, Heaven, is one such project. A piece of LGBT history and Detroit dance music history in one! A worthy cause! One wonders why Detroit isn't as known for its music as Nashville is, even though Detroit musicians have pioneered most every American music type. Detroit Sound Conservancy is out to change all that.
— Alan Oldham, DJ and Producer
I remember people dancing on the speaker platform across the room from the DJ booth… the spotlight shining on them. Then the spotlight moved shining on the battle of circle kids next to the DJ booth. The spotlight would shine on DeAngela Show Shannon where she would be performing on a speaker platform next to the DJ booth. There was a cracked window by the DJ booth and by the window a pipe going through the a hole in the floor. Through the hole you could see the club called the Gas Station which later changed to Club Hell. The spotlight made people feel like celebrities. The door lady, Ms Cakes—everyone knew her. Between 3 and 4:30 am Heaven would be at its peak. Ken Collier would be spinning the hottest music. The crowd was so hype. Heaven was a getaway for the LGBT community. Most were thrown out of their homes for being gay. At Heaven you were accepted no matter what. Myself, as one of the circle kids, couldn't wait for the next Friday or Saturday to do all over again.
— DJ Tony Peoples
Thankfully my introduction to Detroit club and dance culture was in a building on 7 Mile and Woodward at a place called Heaven. My time spent on the dance floor in a circle around voguers, or just losing myself in the music, set the tone for what I have spent decades attempting to bring to the parties I promote. I am honored to support this effort to restore the sound and spirit of Heaven.
— Steven Reaume, The Detroit I Love
Help restore, amplify and relive this vibrant slice of underground clubbing history.
— Graham St John, Executive Editor, Dancecult
The 'children', as Ken Collier used to call the people on the dancefloor, used to give it their all when at Heaven. With Ken on the decks, how could they not?
— Adriel Thornton, event producer and activist
The Heaven Sound System represents what we want in music and art, a pure voice without compromise. It's also a beacon of encouragement to what Detroit is about: inclusion, freedom, and solidarity.
— Sam Valenti, Ghostly International
CREDITS AND THANKS
Historic video footage courtesy of DJ Tony Peoples
Renderings by Peter Lusch
Vectoring support by Common Space